The Most Amazing Light Bulbs You Can Get On Amazon - G95 LED Fairy String Light Bulbs
In our recent post, we introduced our Warm White Fairy String Light Bulb, after it was used as vanity lights for mirrors in dressing room by several of our customers, which turned out to be so surprisingly amazing and beautiful. 
Since then we have listed 7 more colors of the fairy bulbs on our online store and Amazon store. Not surprisingly, they are the most worth buying and trending decorative light bulbs now on Amazon. 
We have selected some of top reviews and photos shared by our customers:
Promising review: "This has got to be the cutest light bulb I've ever seen before. It's got that nice warm glow with the beauty of string lights inside. I have fairy string lights all over my home so when I saw I can get a lightbulb with them inside I knew I had to have it. I like to use late at night when the house is settling down. It provides like I said a nice warm glow. Not too bright! The string lights do not blink, its just a constant light until you turn it off. Fits perfect in my standard lamp. The company also provides a 1-year warranty just in case something were to happen. I've been using mine now for months and it's been fine. Doesn't get warm at all. This lightbulb would work for any home. Around a vanity mirror perhaps? However you choose to use it, I know you won't be disappointed. - Henny~Penny
Promising review: "Pretty and delightful to see. Nice "cool white" light. I've been back for more and more--including "warm white" (romantic), blue, and pink. These will make great gifts for friends, also, so I'm buying extras. Everyone will like them as much as I do." - Alan Dunay
Promising review:
"I absolutely love this. Put it in a light with a white alabaster shade. Feels very festive. Should have bought more." - 
Amazon Customer 
"Absolutely loved this! We replaced our front porch lightbulb with it during Christmas." -
Melissa Barbee
Promising review: "This is the most beautiful bulb I have ever purchased. I wanted a bulb that provided light but wasn't going to burn my retinas if I looked at it without a shade. This was such a rewarding purchase, I needed more light for reading so I have it hanging in the corner of the living room by a recliner." - Mandy
Promising review: 
"I love this light bulb.
I have a lamp with an exposed light bulb in my den. I wanted something more attractive than a regular light bulb.
The glass is clear and the LED lights emit a beautiful, red glow. It does resemble a special starry night.
I am so happy to have discovered this bulb!" - David Braddock
Promising review: "This is a very cool looking bulb. I like it because it isn't too bright to look at so you can enjoy the design. It puts out just the right amount of soft blue light!" - Tommy D.
Promising review: "Hard to capture how beautiful this light is in person, but I did my best! I put it in my bathroom. I hated the fixture but didn't want to go through the trouble of putting in a new one. This was a pretty, and easy solution. Absolutely in love with it. Just the right amount of lighting, too. Warm and relaxing. They also included a 20% off coupon for another purchase, which was a thoughtful touch I really appreciated." - Angel Crowley
Promising review: "I bought two new lamps with a beach theme. They are rope lamps, and the way they sit on the side tables the bulb really shows. I didn't like the look of today's twisty bulbs, but find the lamps unusual, so what to do? Go to Amazon and see what light bulbs they may have!! I found these, and think they are nice looking. I was happy to find them so I could enjoy the lamps. They are very pretty, and I'm happy! I got the softer glow, while nice it emits a low glow. That's fine with me. Next time I'll get the whiter glow and compare which I like better. It depends if u want to read by these lights or just have on for conversation and atmosphere. Delivery fast, and packaged well." - Karyn H.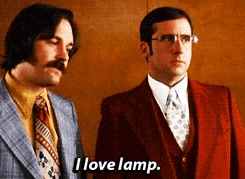 ---